London Dive Chamber – Lectures
LDC are delighted to announce that the Dive Lectures 2018, brought to you by the London Diving Chamber in aid of Scuba Trust, will take place on Tuesday 6th March 2018, at the Royal Geographical Society in London.
Please also find details of NHS planned closure of Hyperbaric Chambers in England and what you can do while we are in this one month period of public consultation.
Now in their 19th year of the Dive Lectures, we welcome you back to the RGS for an evening of escapism, adventure and laughter, with great speakers, promotional stands and, most importantly, fundraising for a great cause.
It is with immense pleasure that they welcome to the stage, Ahmed Gabr, Egyptian scuba diver who holds the Guinness World Records for both The Deepest Scuba Dive and The Deepest Scuba Dive in Sea Water. Ahmed dived to a depth of 332.35 metres.

Following Ahmed on the main stage this year, they are honoured to present the Emmy Award winning underwater videographer and Jacque Cousteau's right hand man for many years, Didier Noirot. From underwater cinematic lesson one with Jacques Cousteau, to capturing the silent world on film, Didier Noirot takes us on his journey through the lens.
Entrance will be free so please ensure that you help us to fill those Scuba Trust buckets on the night. This is the Trust's biggest fundraising event of the year so please do dig deep to make sure that we beat last year's fantastic donation total.

Tickets are known to go extremely quickly, so register now to avoid missing out on your place.

Date: Tuesday 6th March 2018
Time: 7.00pm (doors open at 6.00pm)
Location: The Royal Geographical Society, 1 Kensington Gore, London, SW7 2AR

In other news before we move on to our incredible speaker information please read and have your say:
URGENT: POTENTIAL CLOSURE OF HYPERBARIC CHAMBERS
IMPORTANT: NHS England has been developing its polices for Hyperbaric Oxygen (HBO) services and they are now open for public consultation. They include a
proposal to reduce the number of current chamber facilities from 10 to 8
, with the
closure of one London chamber
and one in the South,
with the loss of services such as medicals, email and telephone advice
. The link to the consultation is here:
https://www.engage.england.nhs.uk/consultation/reviewing-hyperbaric-oxygen-services/
WHAT YOU CAN DO:
If you have any feelings to express about the future of HBOT provision in England, then now is the time to make your opinions known. The consultation closes on February 14th, but please make any contributions as soon as you can, by going to this link:
Please also forward this on to anyone whom you think might also wish to have a say. Use any available means including social media, newsletters, forums, word of mouth and please keep the pressure up (pun intended). Thank you.
Ahmed Gabr
Ahmed Gabr is a 42 year old Ex Egyptian Army officer; at some point in his career he eventually earned a scholarship to attend the US Army Combat Diver course. He is the only certified US Combat Diver in the Middle East. He began his diving career at the age of 18, diving for pleasure then later decided to get his diving instructor training.
During his diving years he dived both for work and for pleasure, while continuously building and developing both his mental and physical abilities.
To aid him in this dive, Ahmed had to organise, research, prepare, find funding, form his support team, correspond with the Guinness World Records representatives and much more. It took him four years to finalise the preparations and achieve the maximum in his training abilities, both physical and mental; in addition to pin-pointing the best spot for the actual dive. All the necessary preparations were finalized, and it was time!!
Everything was set in place, the team was prepared, the Guinness World Record representative present and it was time to roll.
The actual duration of the dive was 13 hours 50 minutes, Ahmed went down in 14 minutes exactly, and that is when he reached the 335m marker (but due to water currents that moved the rope a little to the side, the judges decided to scratch off 2.65 m thus the achieved record of 332.35m). He then came up in 13 hours 36 minutes. The last 27 m alone took him 7 hours to reach the surface. But HE DID IT!!!!
He broke 2 World Records in Deepest Scuba dive (male) and Deepest Sea Dive.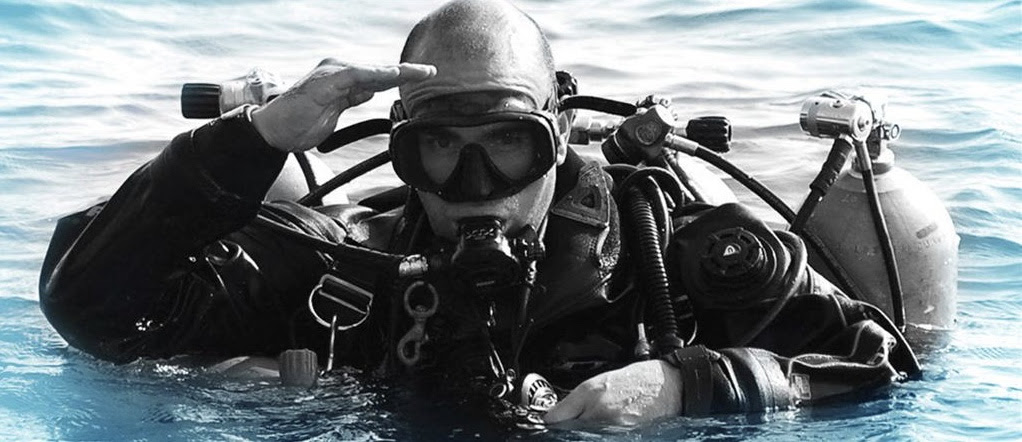 Ahmed salutes the deep blue seas of Egypt.
Didier Noirot
Largely inspired by Jacques Cousteau's underwater odyssey, at age 15 Didier Noirot knew he wanted to join the future divers of the prestigious research vessel 'Calypso'.
He started to dive in 1976 in west of France. By the second dive, he already had a still camera in his hands and took pictures of the sealife in Brittany. A few years later, he taught still photography in the different scuba diving centers run by French organisation Club Med which gave him the opportunity to dive in the Red Sea, Indian Ocean and the Pacific.
During 1986, the dream came true as a favorable answer from Captain Cousteau to a request of becoming a diver on the Calypso was received. This was for a first expedition in New Zealand. "When are you ready to leave" asked Cousteau and his reply was quick : "Yesterday". Two days later and 16 000 kms away, he finally stepped on board the vessel for a trip that took him around the world and lasted until Cousteau passed away in 1997.
During these 12 years, he worked as still photographer the first two years and then became in charge of the underwater cinematography on more than 20 documentaries.
After Captain Cousteau passed away in 1997, Didier met a young and talented producer from the BBC, Mark Brownlow. Mark took him on location as underwater cameraman for "Sensitive Sharks", "Roboshark" and "The Blue Planet Series", all narrated by Sir David Attenborough. For his work as a cameraman on the Planet Earth series, Didier was awarded a coveted Emmy.